After a period of approximately 5 years - sometimes more in a private situation - we would recommend re-colouring your tennis court.
The re-colouring process would involve professional pressure cleaning of the court to remove the dirt and debris from the surface. In some cases it may be necessary to first apply a moss and/or weed killer. Once cleaned the macadam court can be sprayed with two coats of acrylic paint and have the tennis lines re-marked in white. Normal colours being two tone green or red and green.

The process of pressure cleaning increases the porosity of the old surface and the re-colouring not only looks good aesthetically, but also increases grip underfoot and protects the underlying macadam.

Please note that this process is only practical if the colour has faded and the underlying macadam is exposed, if not coloured then the actual surface can quickly start to break up, resulting in an expensive resurface.

Polyurethane Binder
In some cases we may be able to prevent an older court from having to be completely resurfaced by applying a polyurethane binder to the court surface before carrying out the re-colouring colour spraying process. This is only really practical where the court gets little use, for instance in some private houses or if access is severely restricted. Again professional advice should be sought.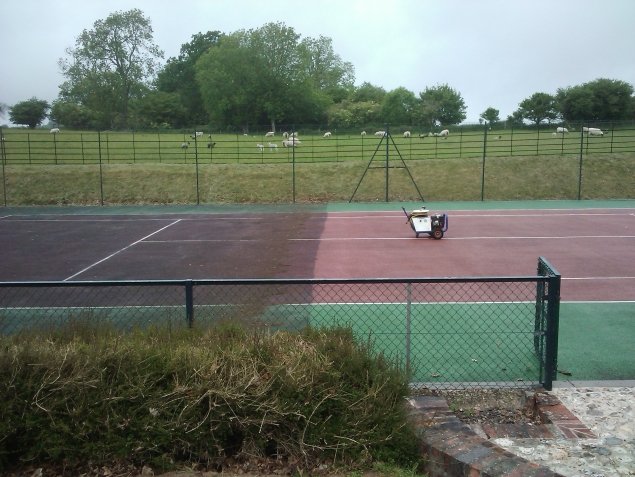 We usually recommend dark green for the playing area and a lighter green for the perimeter of the court.