Matchpoint Acrylic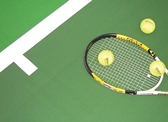 Product Category: Indoor/outdoor, acrylic tournament tennis surface.
Surface Type: Multi-layer build-up of coloured, textured acrylic coatings. Impermeable.
Play Characteristics: The speed and height of bounce, and responsiveness to spin have become the standard by which other tennis surfaces are judged.
Other Characteristics: Matchpoint is robust and versatile, providing excellent foothold. Outdoors, rainwater runs off by laying the courts with a fall to catchment drains. Removal of excess water is required.
Recommended Uses:
An internationally acceptable tournament surface, suitable for both indoor and outdoor use. Ideal for tournament centres and clubs.

Poraflex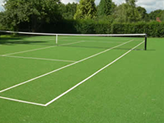 Product Category: All-weather cushioned tennis surface.
Surface Type: Poraflex is a high performance water permeable cushioned acrylic surface.
Play Characteristics: Simulates an acrylic surface. Medium to slow pace producing a medium to high ball bounce.
Other Characteristics: Comfort underfoot and playable in most weather conditions. Reponds well to spin particularly topspin.

Recommended Uses:
Ideal installation in tennis clubs where a more performance based surface is required.